NOTE: About a year a half ago, I published a 3-part blog tracing the fascinating history of STAR TREK CONTINUES.  In honor of their penultimate episode being released this past week and their series finale next month, I will be reprinting these blogs and adding an additional blog or two covering what happened between then and now.
---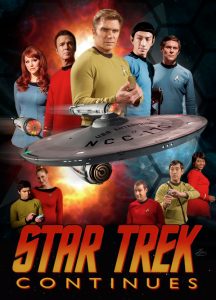 "If only…"
Those were the last two words uttered by Captain Kirk before Star Trek the original series was canceled in 1969.
"If only…"
Kirk was referring to the tragic descent into hate-filled insanity of his former love, Dr. Janice Lester. But for me, these two words were so much more powerful: If only Star Trek hadn't been canceled. If only Star Trek could have…
…continued.
TOS fans always felt a pang of frustration that the five-year mission of the USS Enterprise was cut short after only three years in space (and on the air).  Sure, in 1973 an 1974, we got to see 22 animated episodes of the series, voiced by the same original actors, but we never got to see the end of that five-year mission.
Even when Star Trek crossed over into motion pictures, the end of Kirk's first mission was still a mystery.  And the days of seeing those those bright red, blue, and gold uniforms and those amazingly colorful starship Enterprise sets—those days were gone forever…except in reruns, of course.
I used to have this dream where I was watching an episode of TOS that I'd never seen before.  Of course, I'd seen every episode dozens of times, so when I woke up, I'd sadly remember that there were no "lost" episodes of TOS.
Until there were…
Continue reading "A history of STAR TREK CONTINUES (feature, part 1)"