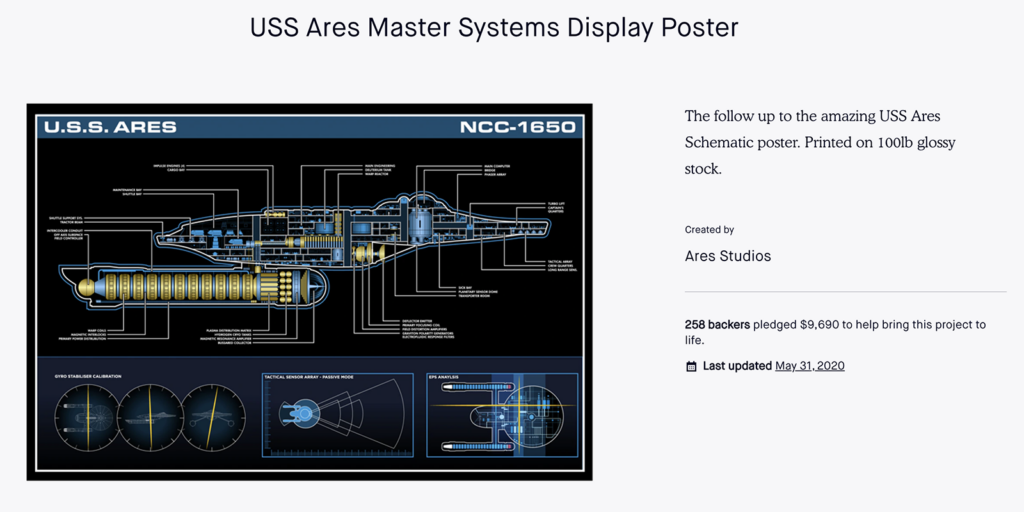 It took just two weeks, but 258 AXANAR fans and supporters just donated $9,690 to fund a series of Master Display Posters and also, of course, ARES STUDIOS in Lawrenceville, GA. The monthly expenses run about $4,200 ($3,750 of that is rent, the rest utilities). A Patreon brings in about $2,600 a month from an average of 260-270 donors…so the remaining $1,600 is coming out of the pocket of ALEC PETERS himself.
To help make up at least some of the shortfall, Alec launched a new Kickstarter on May 16, offering fans a snazzy full color poster of the USS ARES—a side-view cutaway designed by Axanar graphic designer extraordinaire ALEXANDER RICHARDSON. The original goal was a pretty humble $1,200…with a stretch goal of $3,000 that would unlock a second full-color cutaway poster of the USS Geronimo class and a mystery poster stretch goal at $5,000.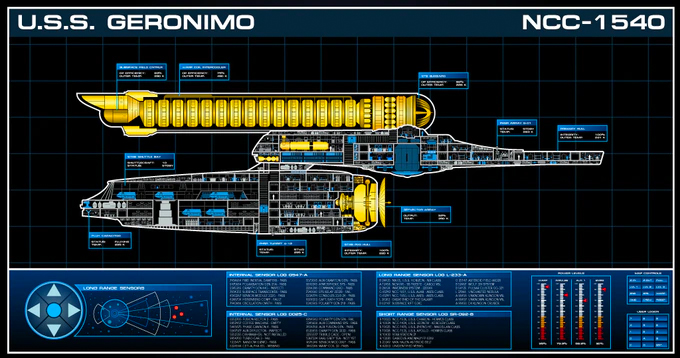 Donations began pouring in almost immediately. The $1,200 goal was passed in less than one hour, the first stretch goal a few hours later, and the second stretch goal within the first week! When the campaign closed yesterday evening, the final total was nearly $10,000! Even I wasn't expecting such a large amount.
A few folks wondered if this Kickstarter campaign was a violation of the agreement that Alec Peters and Axanar Productions signed with CBS and Paramount to settle their infringement lawsuit and allow Alec to finish Axanar as two 15-minute fan film segments. As I wrote in this blog from a couple of weeks ago, the answer is no. The agreement not to publicly crowd-fund using services like Kickstarter applies only to Axanar Productions and the completion of the Axanar fan film, not to the studio that houses the bridge and captain's quarters set. In fact, Ares Studios did not even exist at the time the agreement was signed in January of 2017, and so Ares Studios (a not-for-profit corporation in Georgia) cannot legally be considered a signatory to the settlement agreement (barring the existence of time-travel).
I texted Alec last night to congratulate him on his surprising achievement of nearly $10,000 in just two weeks, and our back-and-forth turned into a mini-interview of sorts…
Continue reading

"ARES STUDIOS poster Kickstarter winds up with nearly $10K! (interview with ALEC PETERS)"