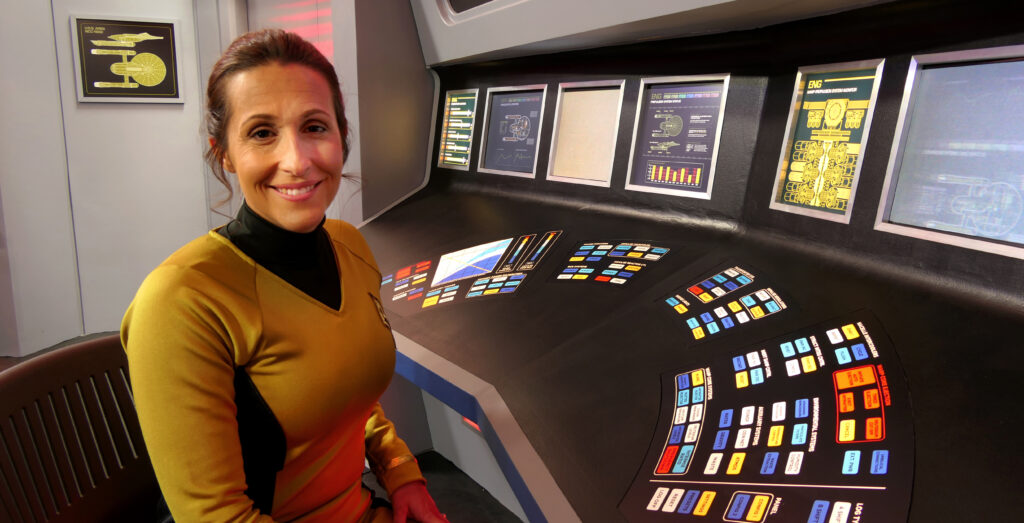 INTERLUDE is finally released, and it's already up to 42K views on YouTube! Did you see it? (If not, click here.) Did you like it? Is it everything you hoped it would be? Personally, I'm extremely happy with the way Interlude turned out. So many people put SO much work into making an awesome fan film.
But I feel really bad about CHRISTY PRICE PAGANO (pictured above) because her ONE shot in Interlude wound up on the cutting room floor.
Christy showed up on our second day of filming Interlude at Ares Studios in Lawrenceville, GA (on Sunday, November 3, 2019) along with her good friend LISA BURGESS (pictured below). The two moms live nearby in the suburbs north of Atlanta, and they were told about the shoot and our need for extras by one of our actors, JAY PLYBURN, who played the U.S.S. Ares science officer with the cool 70's-era mustache.
If you watched Interlude, you might have noticed that there's really only one very brief shot of the U.S.S. Ares where we see most of the extras on the bridge…
There are some other close-ups and medium shots, but this was the only shot that featured nearly all of our Ares crew members at once. Only two officers aren't in the shot: the aforementioned Jay Plyburn and Christy Pagano, who was actually about to come out of the turbolift. But we cut away before the turbolift doors ever have a chance to open.
This is what the full sequence would have looked like had the decision to cut away not been made (note that there are no sound effects or music in following clip)…
That's Christy coming out of the turbolift. And though we barely get to see them, the wounded engineer is JOSE CEPEDA from the fan series STAR TREK: NATURES HUNGER, and the person carrying him off is CRYSTAL RAMOS, who was so excited to be a part of this production. And now, we don't even get to see their faces! But I'm going to fix that right now (at least on this blog page, since we can't reshoot the scene without it costing a lot of time and money)…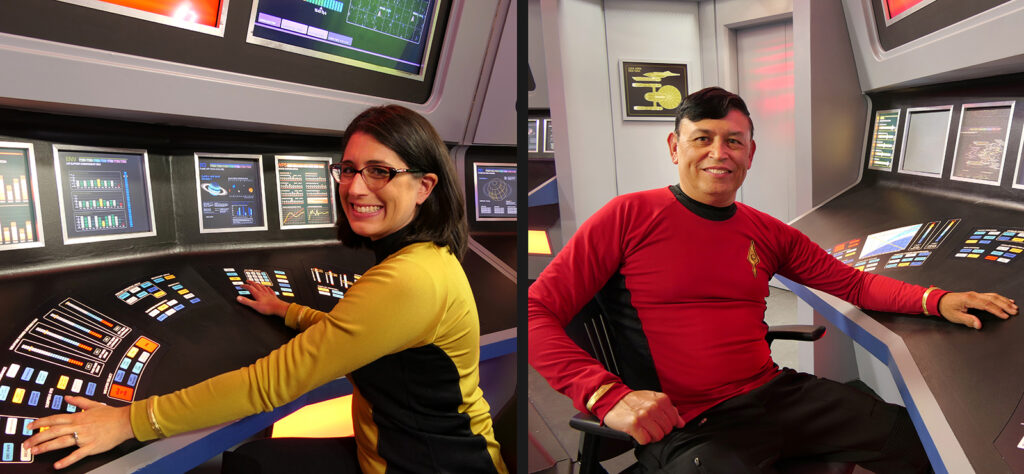 Anyway, back to the wide shot. As you can see from the full 11-second clip, there was a lot going on! The ship was shaking, panels were flickering, Garth was giving an order, people were moving across the bridge with some getting up from seats and others sitting down, the turbolift doors had to open AND close, and not only did Crystal have to make it look like she was carrying Jose into the lift, but Christy had to rush out of the turbolift without bumping into either Crystal or Jose and then squeeze past the communications chair without looking as though she was squeezing ('cause it is a very tight fit!).
And that's just what was happening ON camera!
Continue reading

"INTERLUDE Confidential #17: On the cutting room floor…"