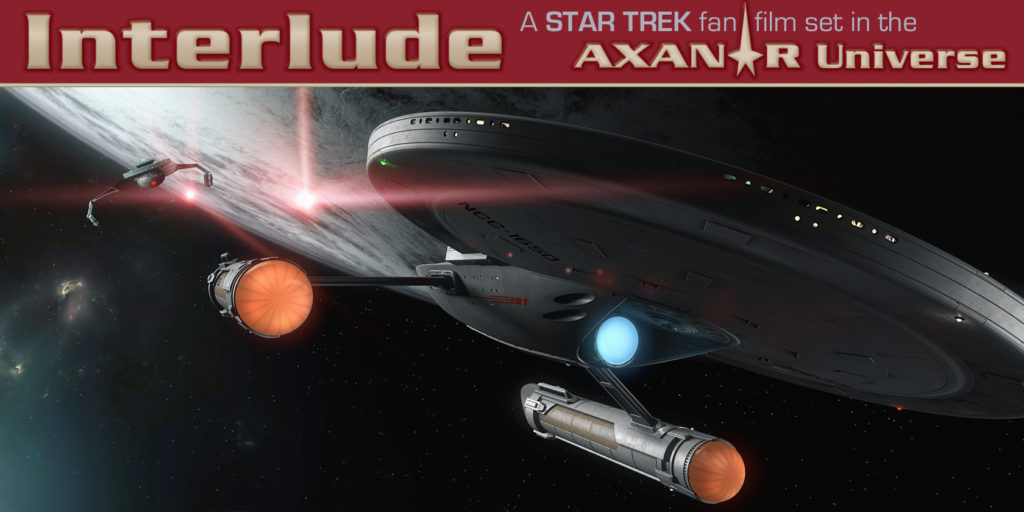 Holy temporal distortion!
Back when I started the GoFundMe for my Axanar Universe fan film INTERLUDE back in early June, it felt like November 2-3 was a million months away. Now I'll be getting on a plane for Atlanta this Friday, and I'm feeling a dozen different emotions all at once: excitement, anticipation, dread, abject terror…it runs the gamut, folks!
Y'see, I watched all of those livecasts from the first AXANAR shoot four weeks ago, saw all of those moving parts—the 80-plus volunteers, the costumes, the sound and computer-monitoring equipment, the lights, the cameras, the action, the caterers—and I got totally overwhelmed. That's a tough act to follow!
Granted, Interlude isn't nearly that big of a shoot—we're expecting about 30 people a day, not 80-plus. But make no mistake: there are still a LOT of moving parts to my project, too…and I'm smack in the middle of most of them!
I naively thought that, after the crowd-funder reached its $19.5K goal, that I'd just be able to slide into the proverbial back seat and let my Directors, VICTORIA FOX and JOSHUA IRWIN do the driving the rest of the way. Oh, sure, as Executive Producer, I'd pay the bills for things like patches, plaques, equipment rental, wardrobe, travel expenses, catering, etc. And I'd be supervising my friend LEWIS ANDERSON on the CGI effects. But aside from that and showing up at the shoot, running a few errands, and taking lots of photos and videos for the blog, I figured that I was essentially done.
Boy, was I wrong!
You might have noticed a slowdown in my blog coverage of fan films over the past several weeks. This is mainly because I've been doing a boatload of work on Interlude! This doesn't mean that Victoria and Josh have't been working their butts off, too. But they haven't let me sneak into the back seat yet. I am still VERY much in the thick of things!
If you're a fan filmmaker or, more precisely, are thinking of becoming one, then this blog is for you. I'd like to share my journey, my "trek," with folks who might be curious to see all of the things a complete novice like me is doing and learning along the way…
Continue reading

"TEAM INTERLUDE expands – we film THIS SATURDAY!!! (part 1)"