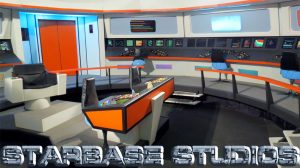 When last we left STARBASE STUDIOS…aw heck, just read the blog, folks!  But long story short, VANCE MAJOR and I had worked tirelessly (and I mean that) for months trying everything we could to get these two parties—GLEN L. WOLFE on one side and SCOTT JOHNSON and KENT "WORDS" EDWARDS on the other—to compromise and reach a place where they could reasonably settle their lawsuit over the ownership of the Starbase Studios sets.
It was like pulling teeth…from a Klingon targ!
Every time we thought we had a settlement ready to sign, another problem seemed to crop up.  But then, by the middle of January, we finally had an agreement that everyone could live with.  Glen was taking it to his lawyer to review, but he was planning to sign it, send it along to Scott and Kent, and finally Starbase Studios could heal and move forward, once again becoming a place where fans could create amateur Star Trek film projects on professional-looking TOS sets.
That agreement was never signed.
So why the headline saying that a settlement has finally been reached?  Well, folks, it's been an…interesting…three weeks!
Continue reading "STARBASE STUDIOS settlement reached!!! (amen!)"