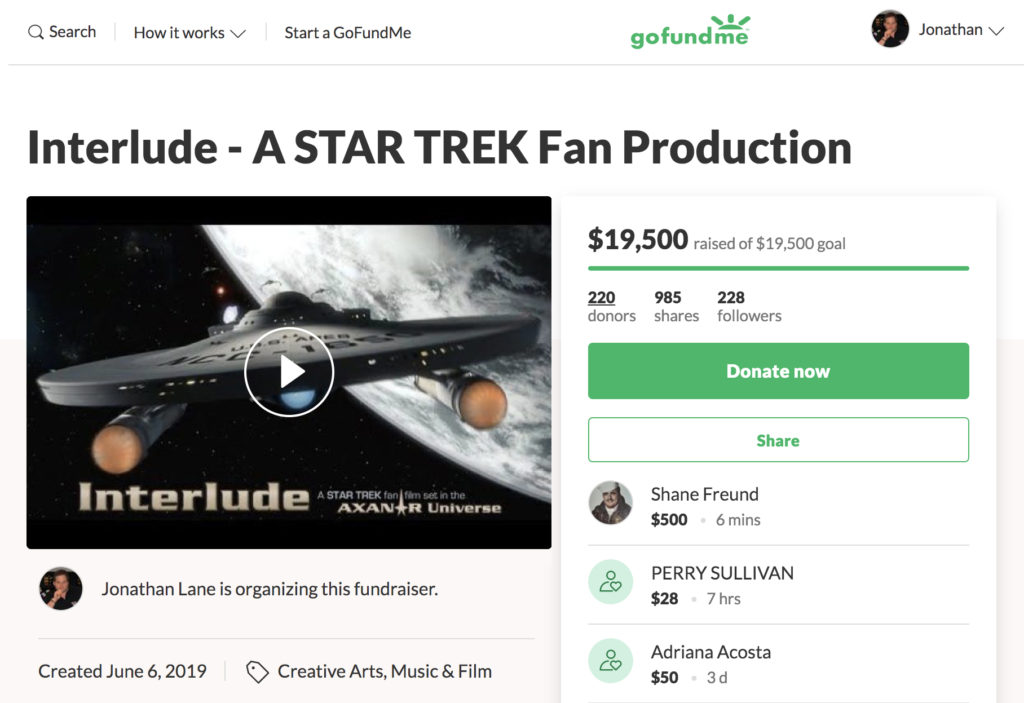 I feel overwhelmed right now, deeply touched, humbled, and just a little bit verklempt.
A few hours ago, during the 53rd anniversary of the debut of Star Trek on NBC, the GoFundMe campaign for my Axanar Universe fan film INTERLUDE reached its goal of $19,500. It was an amazing feeling…especially as the donation that got us there was for an incredibly-generous $500. Earlier in the day, another donor had brought us to exactly $19,000 with a $28 donation. That kind of support and belief in our team and me means more than I can put into words.
The backer who pushed us into the end zone was SHANE FREUND, an Axanar supporter who had also donated to Interlude a few weeks previously. Along with yesterday's donation came this message:
On the anniversary of Star Trek, I wanted to help you reach your goal because having the courage to take a risk is what Star Trek is all about.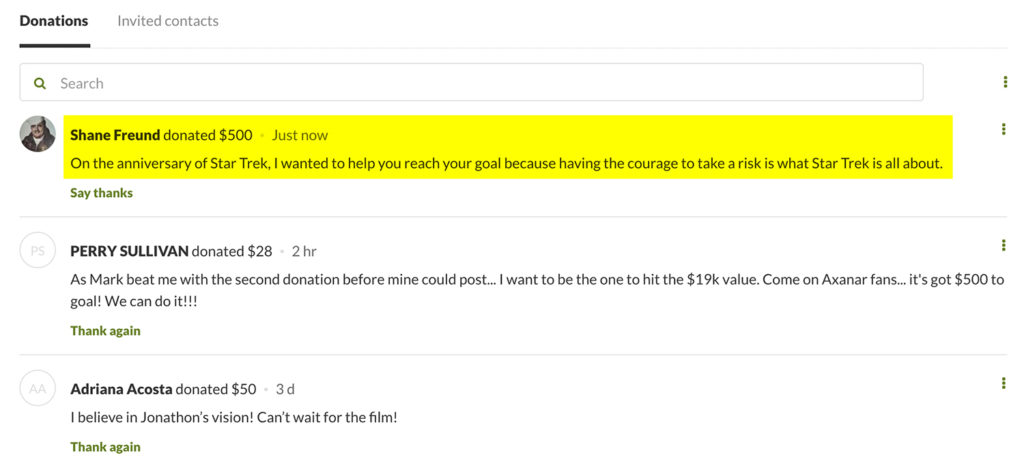 I thought about that statement for a few minutes. In my mind, Star Trek is about a lot of things: tolerance, empathy, inclusiveness, loyalty, duty, honesty, a desire to explore and discover, hope for the future, and a willingness to help others to make things better. And yes, Star Trek is also about taking chances and believing in yourself, in the abilities of your friends and crew, and even believing in luck and your ability to beat the odds.
I grew up in the 1970s watching scenes like this over and over in reruns…
And when you think about it, taking a chance and beating the odds is also what crowd-funding is all about. You put yourself out there and hope that your friends (and crew…and a bunch of strangers) will come through and help you out.
Of course, successfully crowd-funding a project (or a dream) does require a lot of work . Campaigns don't just fund themselves. But it all comes down to one game-changing word: CAN. "I can." "You can." "We can." Those are among the most powerful sentences in the English language.
And do you know what the other most powerful sentences are? "I can't." "We can't." "You can't."
I mention this because I've spent this entire GoFundMe campaign these past three months trying my darnedest to ignore the almost constant drip-drop of negativity from many, many members of the Axamonitor Facebook group. Even when some fair-minded folks over there tried to be supportive of me and my project, others would make comments like this…
Continue reading

"INTERLUDE hits its goal of $19,500 on STAR TREK's anniversary!"