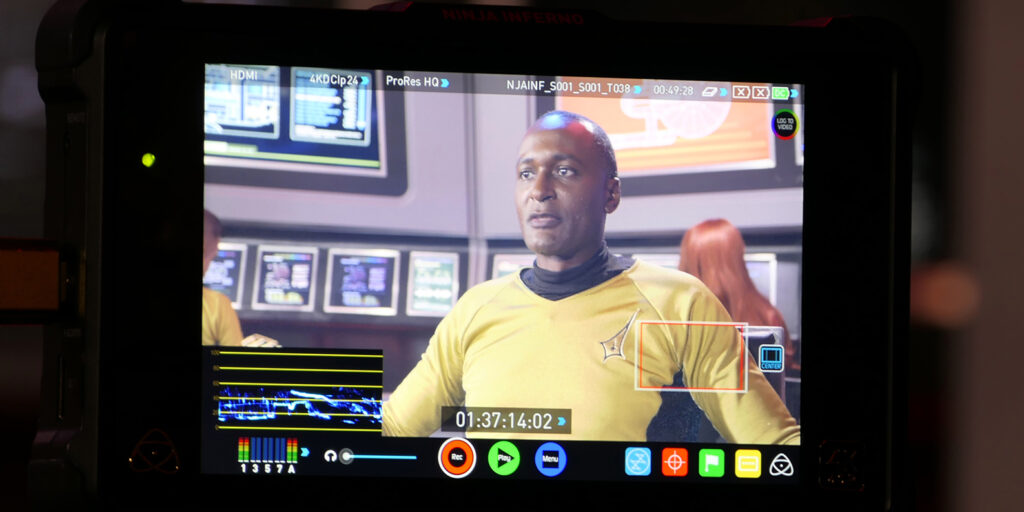 Post-production work on INTERLUDE is continuing, with our third rough cut edit currently being worked on. I love seeing it all take shape, and I adore watching actor WARREN HAWK playing USS Artemis Captain Imari Jakande. I can't wait for you all to see him on screen!
Warren was the final actor we cast, and it happened only four days before before our November shoot! I was biting my fingernails down to the nubs, but VICTORIA FOX and JOSHUA IRWIN assured me that everything would work out. Sometimes actors are cast very late in the process; it's just the nature of the industry. Turns out they were right.
Casting the rest of Interlude, by comparison, was relatively simple. Our other main character, Fleet Captain Kelvar Garth, would be played by ALEC PETERS (of course!). The rest of the speaking parts were pretty minor. Two of the actors who played bridge officers on the USS Ares for the AXANAR shoot in October—AARON ROMANO as Comm Officer Caine and ROBERT HAYES as Pilot Deville—returned to play those same roles for Interlude's November shoot. Also on the Ares bridge was Science Officer Franklin, and Joshua got one of his friends, JAY PLYBURN (who lives in the area) for that part. Jay is also a trained actor, and Josh has directed him in the past.
Admiral Slater will appear at the end of Interlude, and STEVEN JEPSON agreed to play him. The two remaining on-camera speaking roles are the Ares doctor, a role which Victoria is filling, and the Artemis chief engineer, being played by an actor whose name we're keeping secret for the moment (but it's a person with some fan film experience). Then there's two voice-over roles, plus all of the background actors who won't be speaking.
And that left Jakande…
Continue reading

"INTERLUDE Confidential #6 – meet WARREN HAWK, Captain Jakande of the USS Artemis…"