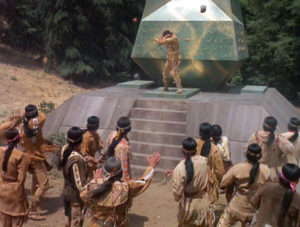 First I should mention (in a follow-up to our previous post) that the survey results are in.  I invited members of the SMALL ACCESS protest campaign to vote in an online Facebook poll: which ONE if the new fan film guidelines feels like it is the most problematic for fan filmmakers?  This would be the guideline that Project: SMALL ACCESS will focus on convincing CBS and Paramount to revisit and revise.  And there was a clear winner: Guideline #1.
However, Guideline #1 is actually a two-part guideline made up of the following:
#1a – The fan production must be less than 15 minutes for a single self-contained story, or no more than 2 segments, episodes or parts, not to exceed 30 minutes total…
and
#1b – …with no additional seasons, episodes, parts, sequels or remakes.
It's possible for us to request a revision by CBS to one part of this guideline without necessarily changing the other part.  And so I divided Guideline #1 into two options, and together these were, by far, the highest vote-getters, taking more than 95% of the nearly 140 submitted responses.  So which one got the most votes?
Continue reading "FAN FILM GUIDELINES: Reality Check (Part 6) – The CARROT and the STICK"