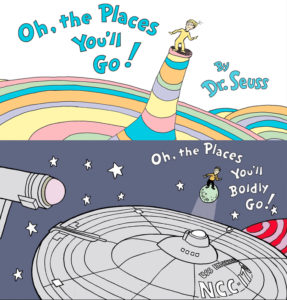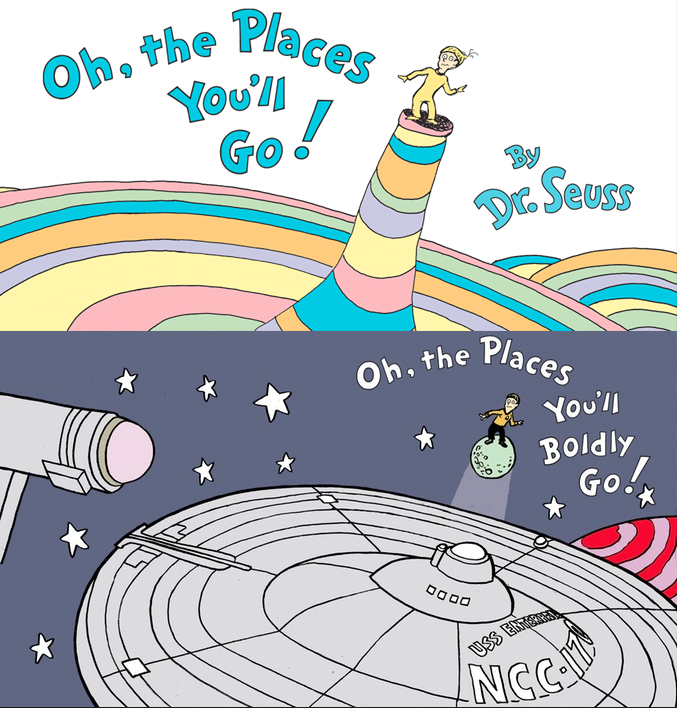 Last time, we began looking at the intriguing case of the Dr. Seuss/Star Trek "mash-up" book Oh, the Places You'll Boldly Go! by DAVID GERROLD and TY TEMPLETON.  Last November, they got sued by Dr. Seuss Enterprises for copyright infringement, trademark infringement, and unfair competition.  The defense quickly filed a motion to dismiss the case.  After a brief extension, the judge issued a ruling last month.  (For more details, read yesterday's blog.)
The motion to dismiss centered around the "mash-up" being protected as "fair use."  And while judges do not usually rule on fair use this early in a case, the Honorable Janis L. Sammartino of the 9th Circuit Federal Court did (again for reasons explained in yesterday's blog).
So did the fair use defense work or not?  What did the judge say???
In short, it's a tie.  She called it a "near-perfect balancing of the factors" of fair use.  And what does that mean?  Get comfy, folks, 'cause Jonny's gonna do his best to break this down into layperson's English for you all…
Continue reading "DR. SEUSS/STAR TREK: A "near-perfect balancing" of FAIR USE factors! (Part 2)"