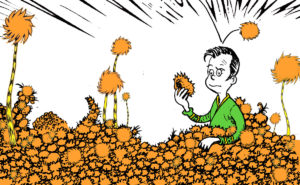 Feel free to read Part 1 and Part 2 if you haven't already.  This time, we're going to look at is the state of the Dr. Seuss/Star Trek "mash-up" lawsuit as it stands right now.
Initially , there were three legal complaints filed by the plaintiffs, Dr. Seuss Enterprises:
Copyright infringement
Trademark infringement
Unfair competition
Judge Janis L. Sammartino of the Ninth Circuit Federal Court dismissed the second and third complaints, leaving only the copyright infringement claim as the lawsuit…and that one was "nearly perfectly balanced" based on the "fair use" defense.
But the judge did give the plaintiff a "second chance" to get those two dismissed claims back.  She gave them two weeks to file an amended complaint that might change her mind about dismissing trademark infringement and unfair competition.
The plaintiff did, indeed, re-file an Amended Complaint.  Not surprisingly, the defendants then filed a new Motion to Dismiss.
The plaintiff wants their two dismissed claims back.  The defendant would like to keep those two claims dismissed and, if possible, dismiss the final copyright claim and end the lawsuit completely.
Will either side succeed?  Let's take a closer look…
Continue reading "DR. SEUSS/STAR TREK: What happens next? (Part 3)"