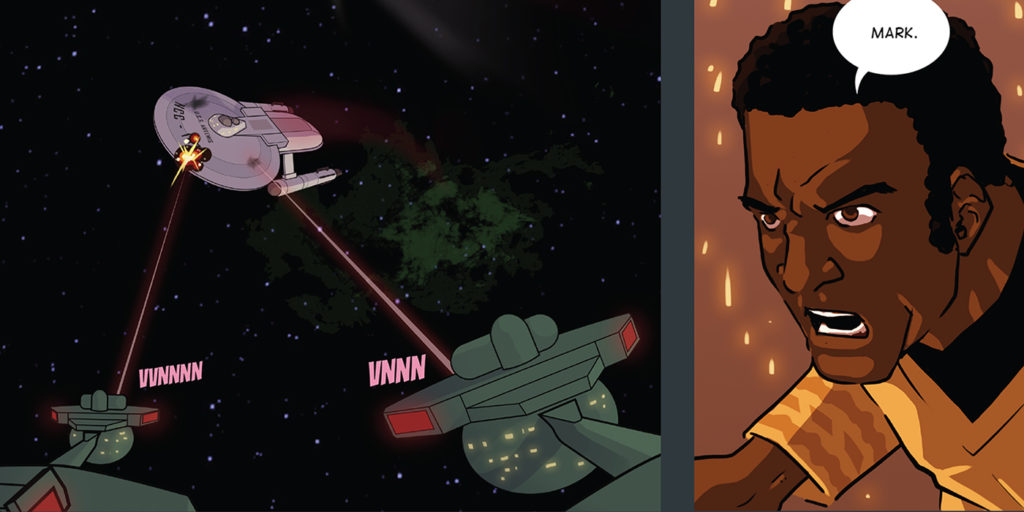 Another week, another $700 for the ol' GoFundMe campaign for INTERLUDE. We're just about half-way, and at this rate, we'll make it to our $19,500 goal by mid-October. But we don't have until mid-October—more on that situation at the end of this coming week.
In the meantime, we're just $442 away from passing the $10K threshold. So if you haven't donated yet or would like to increase your donation a weeeeee bit, operators are standing by…
https://www.gofundme.com/interlude
And now, the blog…
---
SPOILER ALERT!
By now, you know that the spoiler alert is there because this comic book one-shot tells the same story as INTERLUDE. So if you want to be completely surprised by the fan film when it comes out, then completely don't read the 5 pages (plus cover) at the end of this blog.
Heed my words, humans.
Okay, if you've stuck around, you might be wondering how close the comic will be to the final fan film. The dialog is pretty darn close, but it's not an exact match. The comic book needed to be truncated in places in order to keep it at just seven pages and not have all of the artwork covered up by word balloons.
But there's also two places where you'll discover that the comic and film will diverge quite a bit. One of those two places is at the end. But since we've still got two pages to go, I won't spoil that for you just yet. I'll discuss that divergence in two more weeks.
The other place where the two versions are different comes closer to the beginning—in fact, it's right after the opening VFX sequence. Originally, the shooting script matched the comic book much more closely. But after VICTORIA FOX, my producer and the co-director for Interlude, read the shooting script, she had some feedback.
Now, I'll be honest with you, I wasn't looking forward to making any more changes. I'd already sat with this script for nearly two years, tweaking it here and there, and I was pretty happy with it. So was ALEC PETERS. Why mess with "perfection"?
Well, it turns out it wasn't quite perfect just yet…
Continue reading

"Just posted: PAGE 5 of the INTERLUDE comic "STARDATE 2245.1"!"