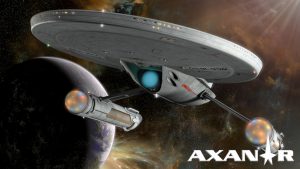 Man, just when you thought we'd go at least a few days without a long AXANAR post!  But hell hath no fury like a pair of studios compelled by a judge to produce a ton of discovery documentation and new witnesses to depose.
So what the heck just happened?  Well, long story short, yesterday the plaintiffs attorneys in the case filed a 122-page ex parte (emergency) application for a judge's order of relief while still in the discovery phase of the case.  Time was running out (discovery ends on Wednesday!) and the plaintiffs couldn't wait to jointly approach the judge for a fast resolution.  And what are they trying to resolve?
Well, now it's time for short story long.  Strap in, folks–'cause a LOT has happened in the last seven days!
Continue reading "CBS/PARAMOUNT legal team blasts ALEC PETERS with full phasers in AXANAR LAWSUIT!"