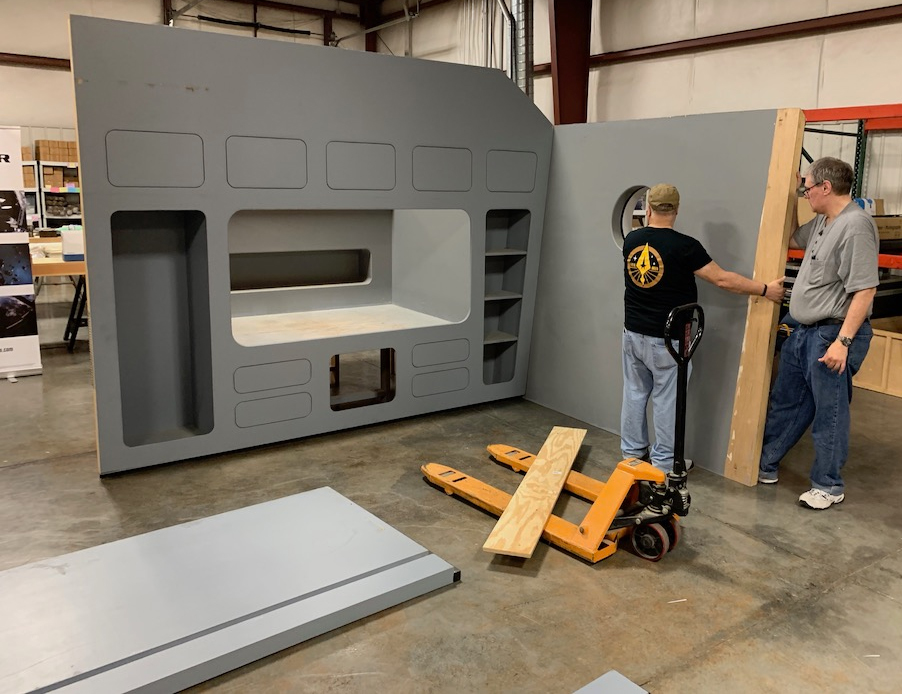 When ALEC PETERS reluctantly shut down Industry Studios in Valencia, CA and moved to the current ARES STUDIOS location in Lawrenceville, GA, he took with him as much as he could fit into the trucks. This included the various pieces of the amazing USS Ares bridge set, costumes, props, equipment, patches, and a second set designed and constructed by DEAN NEWBURY: Captain Garth's Quarters. Initially intended to be used for certain scenes in the full 90-minute AXANAR fan film (which will, sadly, never be completed and released), the Captain's Quarters was disassembled for transport, and the "flats" (pieces of the set) were stored in the new facility.
While the Ares Bridge set has taken center stage (rather literally) over the past almost-year as it neared completion, the pieces of the Captain's Quarters sat humbly off in the corner, waiting for someone to come along and put them back together.
That finally happened this past weekend when Alec and a small number of volunteers got together to reassemble the pieces for the first time since they sat in Industry Studios in California. The initiative was led by and JOHN "Stoggy" STREKIS , who has been producing the many, many videos that have been posted to the Axanar YouTube Channel (if you haven't been watching those videos, you really should check out a few). John was visiting Georgia from new Jersey, saw the bridge pieces sitting there unused, and suggested (rather strongly) that they finally be reassembled so Ares Studios would have more sets to offer filmmakers wanting to shoot at the facility.
Joining Alec and John were volunteers DAN WAGNER and DALE SIMPSON, who are local and have already been taking point on completing the Ares Bridge, plus CHRIS WEUVE, a guest who was also down in Georgia visiting the sets. Together they worked for a couple of hours trying to figure out how to arrange the various flats (they weren't marked, and they weren't necessarily laid out in a four-wall square…more of an angled "W") before Dana took a screwdriver and locked the pieces together.
I thought this might be a good time to interview Alec and get an update on all things Axanar (well, most things)…
Continue reading

"ARES ASSEMBLE! – AXANAR volunteers put together GARTH'S QUARTERS in Ares Studios! (interview with ALEC PETERS)"