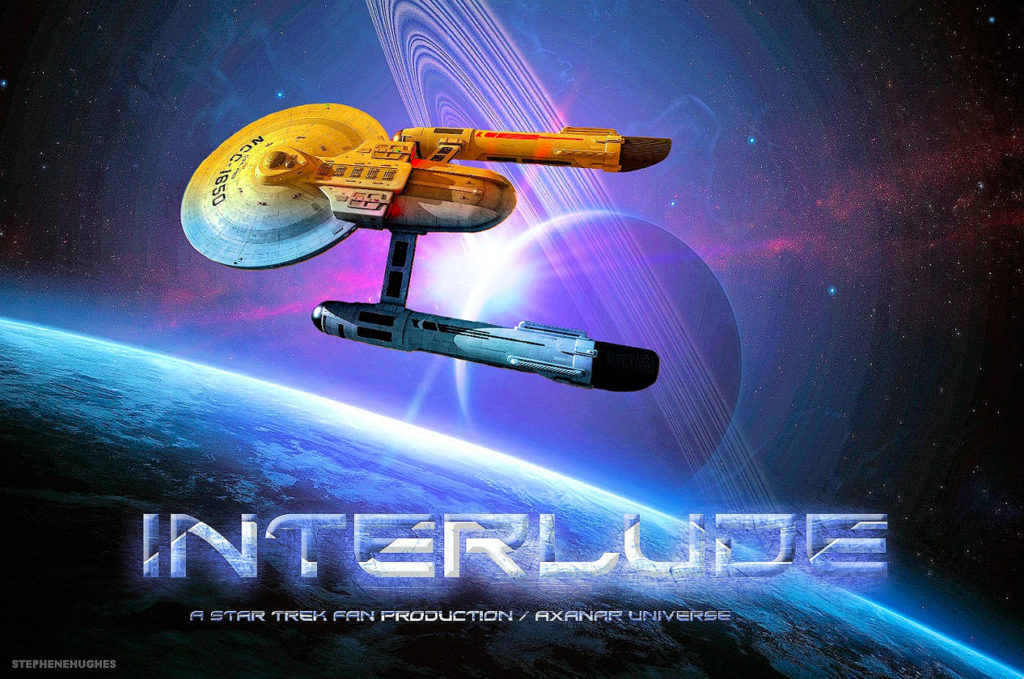 Before I dive into the slings and arrows of outrageous scheduling, I'd like to thank INTERLUDE supporter and donor STEPHEN HUGHES for creating the stunning image above (along with several others). This is the kind of love and enthusiasm that's the cherry on top of the sundae that is fan filmmaking.
I'd also like to thank all of the donors who have helped bring the Interlude GoFundMe to a staggering $18,808!!! This included an amazingly generous $300 donation this past weekend from a member of the Axamonitor Facebook group—CLARENCE THOMPSON—who had previously donated $100…bringing his total to $400 and giving him the honored rank of "Captain" in my credits.
Clarence is one of a small few of that group who have donates, but I want to acknowledge this support from some of those whom I've historically called "detractors." Many of them still detract and deride and demonize, but obviously not all…and that says and means a lot to me. So a big THANK YOU to everyone who has stepped forward to support Interlude.
And of course, there's still time to donate (we're less than $700 from our $19,500 goal):
https://www.gofundme.com/interlude
Okay, let's get onto the update as I shine the spotlight on…scheduling!
Y'know how starships have short-range and long-range sensors (and if the script calls for it, medium-range sensors)? Well, it turns out that fan films have the same thing—or at least mine does. You might remember from back in June a blog I wrote about all of the things that went wrong and threatened to delay the launch of my GoFundMe campaign: epic floods, stray dogs, trapped woodpeckers, etc.
Well, it turns out that Murphy and his law about things going wrong isn't quite finished with me yet. Read on, my friends…
Continue reading

"INTERLUDE's not-so-phantom menace: SCHEDULING!"