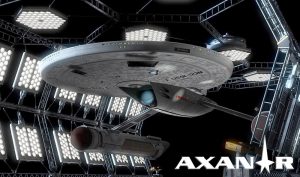 And so we come to the fourth and final part of this blog series.  (Time sure flies when you're writing 2,000 words a day!)  Here are links to Part 1, Part 2, and Part 3.  If you haven't read them yet, to quote Pavel Chekov, "Now vould be a good time."
It's probably pretty darn busy right now at CBS and Paramount.  What are been asked for (or rather, ordered) by the judge will most likely require all hands on deck for much of the week–tracking down documents and e-mails and financial records, compiling them, composing careful answers to submitted inquires from the defense, and creating a full privilege log.  Plaintiff's Attorney Jonathan Zavin said as much in court last Friday toward the beginning of his presentation (I'll post the court transcript when I receive a copy) and even called the amount of documentation requested "unduly burdensome" 25 different times in the plaintiff's responses in the Joint Stipulation document.
So, where does everything go from here?
Continue reading "AXANAR LAWSUIT discovery ruling – what does it all mean? (Part 4)"