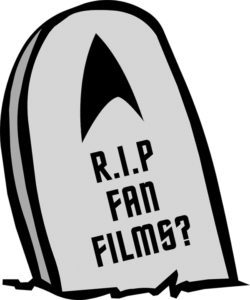 If you read Part 1, you know that I want to keep fighting for a change to the fan film guidelines issued last June by CBS and Paramount.  I'm not ready to give up.
You might remember that when those guidelines were first announced, they were met with cries of panic that the world of Star Trek fan films was doomed.  These guidelines would eliminate, destroy, even obliterate fan films.  (Yep, I used all of those words.)
And you know what?  I was wrong.
Rather than killing the medium of Star Trek fan films, the guidelines didn't seem to have had much of a curtailing effect at all.  In fact, do you know how many Star Trek fan films have been released in the eight months SINCE the guidelines were announced last June?
Take a guess.
Continue reading "FAN FILM GUIDELINES: Reality Check (Part 2) – The DEATH of TREK FAN FILMS?"