SPOILERS AND POLITICS – A WARNING COMBINATION!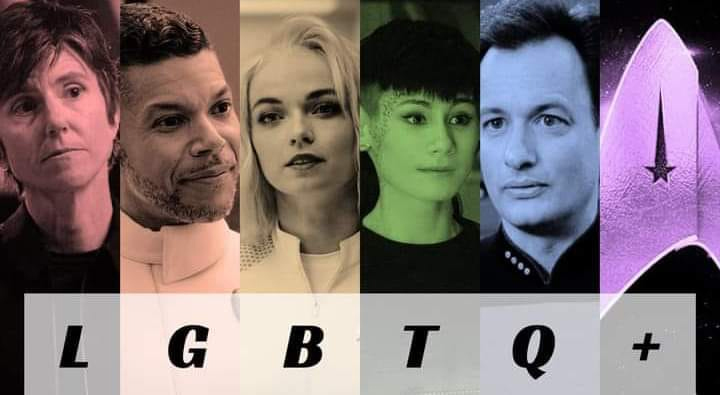 Star Trek has never shied away from holding a mirror up to the more controversial aspects of modern (20th and 21st century) culture through the "safe lens" of viewing a future, or an alien society, with surprisingly similar challenges. In fact, this was one of the main goals that GENE RODDENBERRY had in mind when he was first pitching his "Wagon Train to the Stars" concept to the networks.
Indeed, as most of us know, the original Star Trek series tackled some of the biggest issues of the 1960s: prejudice and discrimination ("Let That Be Your Last Battlefield"), the Vietnam War ("A Private Little War"), overpopulation ("The Mark of Gideon", women's struggles for equality with men ("Turnabout Intruder"), and a growing paranoia that computers could replace people ("The Ultimate Computer")…to name just a few!
In the 1980s and 1990s, Star Trek continued to advance a mostly left-leaning political message with movies and episodes spotlighting homophobia (TNG's "The Outcast"), environmentalism (TNG's "Force of Nature" and of course, Star Trek IV: The Voyage Home), labor rights (Voyager's "Workforce"), government-sponsored torture (TNG's "Chain of Command"), homelessness (DS9's "Past Tense"), white supremacism (Enterprise's "Terra Prime"/"Demons"), and even the prophetic dangers of overreaction to a foreign terrorist attack on our own soil (DS9's "Homefront" and "Paradise Lost," which eerily predicted the September 11 attacks and subsequent curtailment of freedoms half a decade before 2001!). And again, the list could go on and on.
Star Trek has also charted its course by embracing all variety of dramatic presentation: action/adventure, mystery, romance, suspense, comedy, tragedy, etc. And one of those many genres was the legal procedural, usually with the message being delivered most effectively and dramatically within some kind of courtroom. In TOS' "Court Martial," the message was to beware of computers presenting false-but-believable information (a concern rearing its head right now in 2023 rather than 2267!). In TNG's "The Drumhead," a trial quickly turned into a witch hunt, demonstrating how paranoia could quickly spread fear in the name of righteousness. TNG's "The Measure of a Man" and Voyager's "Author, Author" deal with rights being taken away from certain individuals for very arbitrary reasons. Lest you think this applies only to androids and holograms, consider that several states permanently remove the right to vote from any convicted felon, even after they have served their time in prison. And DS9's "Tribunal" showed how the government can turn a trial into political theater in order to advance state propaganda.
And so we finally come to the second episode of STAR TREK: STRANGE NEW WORLDS season 2: "Ad Astra per Aspera" ("To the Stars Through Hardship"), a courtroom drama with a definite message. And it's that message that I plan to discuss in today's blog. So if you have fear and hatred in your heart for transgender people, you probably want to stop reading now—although I really hope you won't…
Continue reading

"In the best traditions of Star Trek, STRANGE NEW WORLDS uses metaphor to spotlight TRANSGENDER phobias and prejudices in OUR society… (editorial review)"