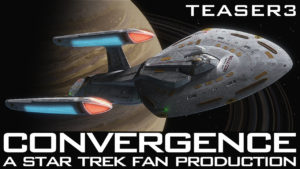 For the last couple of weeks, show-runner and "Trekyards" super-duper CGI trooper SAMUEL COCKINGS has been releasing a new teaser for his new fan project, CONVERGENCE, each weekend.  Convergence will be a mega-crossover event, bringing together (according to Samuel) FIVE different fan films and series.
The first couple of teasers gave fans the initial two pieces of the puzzle.  One of the cross-over fan series would be Star Trek: Intrepid, featuring Intrepid show-runner and star NICK COOK reprising his fan favorite role of Captain Daniel Hunter, as shown in the first teaser…
The second teaser revealed that the fan series Star Trek: Dark Armada would also be part of the cross-over equation, as that series' show-runner and star, ROBIN HIERT, would be playing his character Captain Alexander Richardson of the USS Batavia.  Here's the second teaser…
That left three more cross-over fan films/series still a mystery…until last Saturday when the third and final weekly trailer made its debut.  Two important (and surprising!) pieces of the puzzle were revealed with this announcement/introduction by Samuel:
STAR TREK: RENEGADES and STARSHIP REPUBLIC.  That's right!  While the Renegades team have moved to a non-Trek universe, we are officially carrying on the torch for their Star Trek pilot and telling a new story with parts from the Star Trek: Renegades 'verse.
Also joining as our final captain is JIM VON DOLTEREN from Starship Republic!  He will be flying to the UK to ensure that all our captains can be in the same room at the same time for some important scenes and to get the best quality production possible!
At some point in the next week or three, the official crowd-funding campaign for Convergence will launch, and fans will discover who the final character(s) is/are and from which fan project.  In the meantime, you share in the excitement as you view Samuel's rendition of the Archer-class starship from Renegades and Jim Von Dolteren's voice-over debut in the third and latest teaser for Convergence…