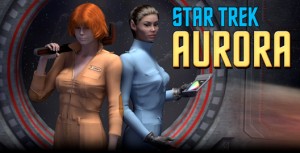 In today's world of cutting-edge Star Trek fan films, teams of dozens—sometimes hundreds!—work to make these ambitious cinematic endeavors come to life on YouTube, Vimeo, or even a DVD or Blu-ray.
So it's definitely worth taking notice when a top-tier Trek fan film is produced by only ONE man.  Well, I should qualify that.  His first episode cast was comprised of 17 people (including the creator himself and his wife Jeannette), the original music was composed by John Catney, and a number of CGI 3D meshes and textures were created by other artists.  But everything else – the writing, directing, producing, sets, make-up, wardrobe, lighting, sound, camera angles, editing, and 3D animation – that was all in the hands of one guy: Tim Vining.
And he never even had to get out of his chair!