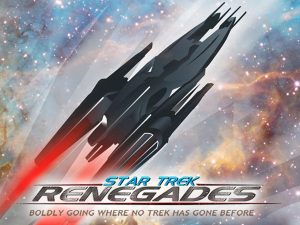 Star Trek: Renegades is the most expensive Star Trek fan film produced so far.  With a price-tag of $375K, their 90-minute pilot movie has generated 1.5 million YouTube views in just 9 months.  The movie even had a red carpet premiere in Los Angeles last August with paparazzi and verteran Star Trek actors in the cast, including Walter Koenig, Tim Russ, and Robert Picardo.
Renegades held another Kickstarter crowd-funding campaign at the end of last year, looking to produce the first two single-hour episodes of their ongoing series.  This 2-parter would feature Walter Koenig reprising his role of Pavel Chekov for one final time.  Raising $378K, there was enough to film part 1, and fans assumed more crowd-funding campaigns would follow as the series continued.
But Renegades has just announced that the upcoming 2-parter will mark the culmination of their impressive fan series efforts.
Continue reading "STAR TREK: RENEGADES announces its series finale!"