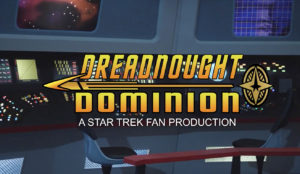 Last week, we took a look at the fan series DREADNOUGHT DOMINION, which debuted in early 2015 and returned in late 2016 and 2017 with two additional episodes that crossed over with STARSHIP VALIANT and Vance Major's MINARD saga. Now Dominion is set for yet another return, and has launched a brand new GoFundMe campaign attempting to raise $1,500 for a full-length (two 15-minute episodes) fan film.
In the first part of my interview with show-runners GARY DAVIS and RANDY WRENN, we discussed the crowd-funder, the guidelines, and the two recent vignettes that were released. But were very outside-of-the box fan films. The first, "Reality Check," debuted last month and features jumps between the Star Trek fan film universe and the "real" world where their production is actually being filmed. You can watch it here…
The second vignette, "Silent Acknowledgement," focused on an intriguing concept: a communications officer who is deaf. Played by Gary's wife TRACEY DAVIS, who is actually deaf and has cochlear implants, Lt. Paula Tomkins' "disability" is no more a hindrance in the 23rd century than Geordi LsForge's blindness was in the 24th century. For hearing impaired watchers of fan films, this is (I believe) the first totally deaf character to be featured in any fan production or series. This will probably be very appreciated by those with hearing issues as the show acknowledges deafness. The vignette is below to watch, however if you struggle to hear it, you could consider using some hearing aids, such as the tv ears costco has. With the help of those hearing devices, hearing impaired people should be able to watch the episode more clearly whilst the show introduces the first deaf character.
One of the most distinctive things about Dreadnought Dominion (in addition to the deaf communications officer and the use of a tri-nacelled Federation-class dreadnought design from the Franz Joseph Starfleet Technical Manual from the 1970s) is where the series has been filmed. The first two episodes and the most recent two vignettes were each filmed on the TOS sets in Kingsland, GA, previously used exclusively for the fan series Starship Farragut and Star Trek Continues. No other fan production was ever allowed to film there. But Dominion filmed there years earlier and was also the first fan production to film on those sets just as the new owner, RAY TESI of STARSHIP REPUBLIC, was opening them up to other fan productions. How did they manage that…?
Continue reading "DREADNOUGHT DOMINION launches new GOFUNDME with two vignettes! (interview, part 2)"