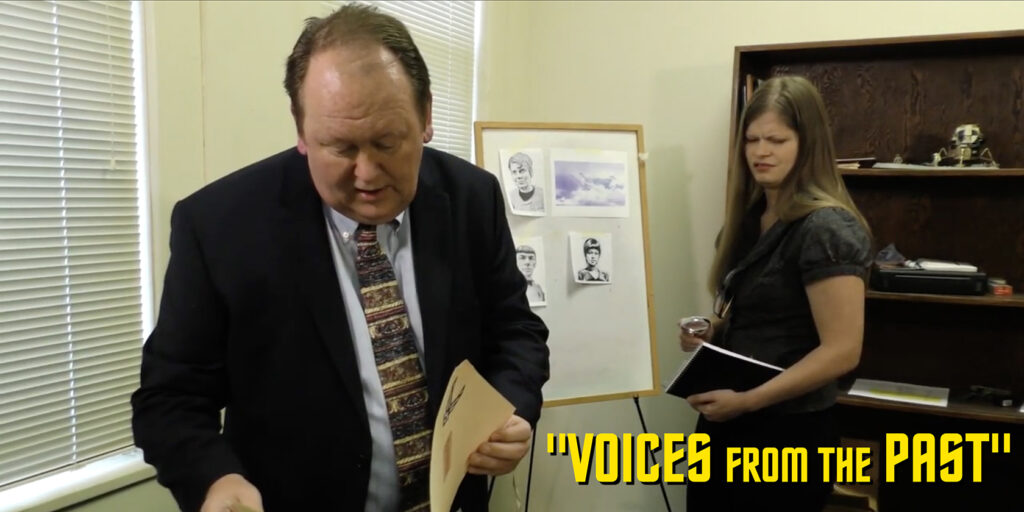 When is a Star Trek fan film NOT a Star Trek fan film? Or is it vice-versa? For GLEN L. WOLFE, writer and director of the sixth installment of the anthology series THE FEDERATION FILES, "Voices from the Past," any distinction is totally blurred and probably irrelevant. No matter what "Voices" might seem to be, it is at heart VERY much a Star Trek fan film!
Granted, it certainly doesn't look like a Star Trek fan film. There are no starships flying around, no one wearing Starfleet uniforms, no Klingons or Romulans or Cardassians in sight. No main characters from any Star Trek TV series or movie are walking around. "Voices" doesn't even take place in the 23rd or 24th century. And yet, it's 100% a Star Trek fan film!
The fact that no scene takes place on a 23rd century starship is particularly surprising considering that Glen and his partner DAN REYNOLDS are the co-owners of WARP 66 STUDIOS in northeastern Arkansas and have access to a number of very high-end TOS-era sets like the bridge and sickbay. Indeed, over the course of the past three and a half years, The Federation Files has released these five fan films all set in the 23rd/24th century:
But this time, Glen has something very different in mind, and very unique in the world of Trek fan films. Without spoiling it for you, how about you just give it a look-see for yourself…
At nearly 39 minutes, the two parts of this fan film exceed the 30-minute limit imposed by the ViacomCBS guidelines, but I doubt these are the droids the license holders are looking for…as it would be highly unlikely that the casual viewer might mistake "Voices" for anything resembling Star Trek. So I'm guessing Glen and Dan are safe for the time being.
I always enjoy chatting with my pal Glen, especially after the release of a new Federation Files production. So once again, I've got a great audio interview with this mover-and-shaker of the Star Trek fan film community…