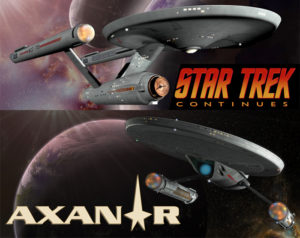 Last Wednesday, STAR TREK CONTINUES announced that none other than actor JOHN "Q" DE LANCIE is going to guest star in the ninth episode of their fan series, "What Ships Are For," which will premiere the last weekend of July.
And now I am about to get myself into a shatload of trouble!  But before I jump into the smoldering volcano of fan film frenzy and fanatical fealty, let me state the following up front:
I love Vic Mignogna (not romantically, just as a fan).  Yes, I've heard him called every name in the book by people who don't like him.  I've heard vitriolic complaints about Vic's ego, lack of integrity, and even his acting ability.  (And I've heard similar rants about Alec Peters, by the way.)  The fact is: I don't care!  I think very highly of both of these men…and for very similar reasons.  But for right now, let's focus on why I love Vic.
Every fan production has one bright sun at the center of its solar system.  And for STC, that has always been Vic Mignogna.  He's a leader and inspiration to his production team.  He makes things happen.  He has set the tone for an endeavor where everyone gives 200% and does it all with smiles while having a blast.  You can see it in their behind-the-scenes videos, and I've seen it in person at cons I've attended where the STC cast is in attendance…with Vic right there in the middle of the enthusiasm.
I also think Vic does a fantastic job being James T. Kirk.  Many have attempted the role—from the late/great John Belushi to Jim Carey and even Carol Burnett to fan film actors James Cawley and Brian Gross.  Each has brought something different and unique to the character.  So before any of you criticize Vic Mignogna for his performance, imagine yourself trying to portray the legendary captain of the USS Enterprise NCC-1701 and tell me if you could do any better.  As far as I'm concerned, Vic nails it.
So regardless of everything else I am about to say in this blog editorial, let me state for the record that I am a big fan of Vic Mignogna and a HUGE fan of (and proud donor to) Star Trek Continues.
And with that, it's time for Jonathan to jump into the volcano…
Continue reading "VIC MIGNOGNA can't have it both ways (editorial)"