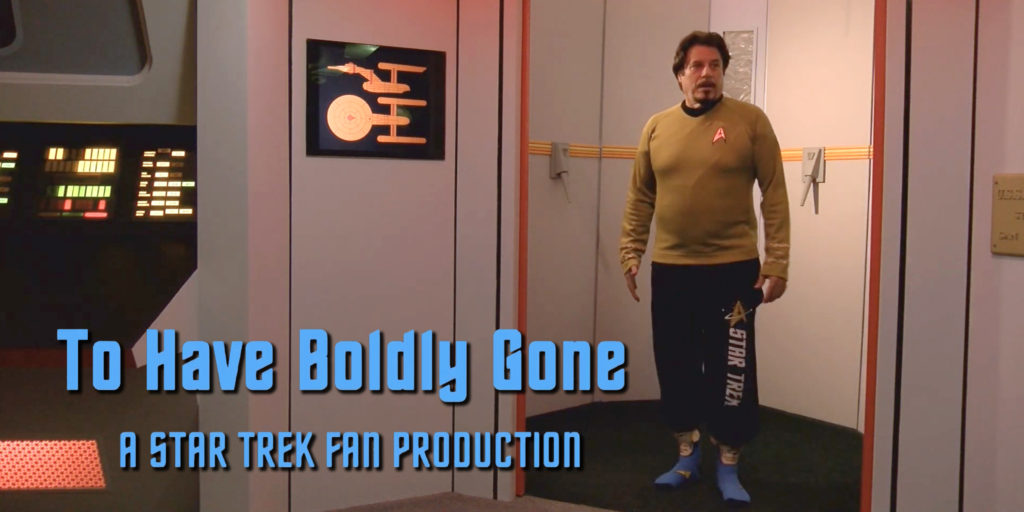 I think it was Deforest Gump who once said, "Star Trek fan films are like a box of chocolates: you never know what you're gonna get…" Or did I dream that?
Speaking of dreaming and never knowing what you're gonna get, I recently experienced the brand new 2-part Star Trek fan film TO HAVE BOLDLY GONE, written and directed by (and starring) LARRY FLEMING…and it was quite a head trip, lemme tellya!
And then I interviewed Larry, and things got even more unexpected. While we talked about his recent fan film (of course!), we also discussed NEUTRAL ZONE STUDIOS, the fan film guidelines, how to avoid the most common mistakes in fan filmmaking, Screen Actors Guild union regulations, emaciated zombies in body suits, Chinese philosophers, brains in glass jars, cats with bells on their collars, unforgettable pizza deliveries, why you need to give coffee to older people, Nero Wolfe, and what to say if you ever meet William Shatner.
All of this is to say that Larry is a VERY interesting guy! And his involvement in Star Trek fan films is expansive—from Starship Farragut and their spin-off Trek Isolation to Dreadnought Dominion, Potemkin Pictures, the Minard saga, Melbourne, and the new Tales from the Neutral Zone. But that's not all! Larry has also worked on a variety of Hollywood movies and TV shows including The Resident, MacGyver, Legacies, Dynasty (the new one) and many others. He's been on The Walking Dead as a Savior, and he's had Robert Downey Jr. tell him to cut his beard off on the set of Captain America: Civil War.

To Have Boldly Gone is the first time Larry has been a show-runner on his own Trek fan production…and the film is a pretty wild ride! Is it a parody? A dream sequence? Theater of the absurd? Take a look at this 2-parter and decide for yourself…
To Have Boldly Gone was crowd-funded back in April with an Indiegogo campaign that brought in $4,220. Filmed at Neutral Zone Studios, THBG joins a growing list of fan films shot on th0se amazing TOS sets since Star Trek Continues ended its run…fan productions including Dreadnought Dominion, Ghost Ship, and the recently-released Looking Glass. Here's the link to donate to the Patreon for Neutral Zone Studios:
https://www.patreon.com/neutralzonestudios
My audio interview with Larry is definitely worth a listen…