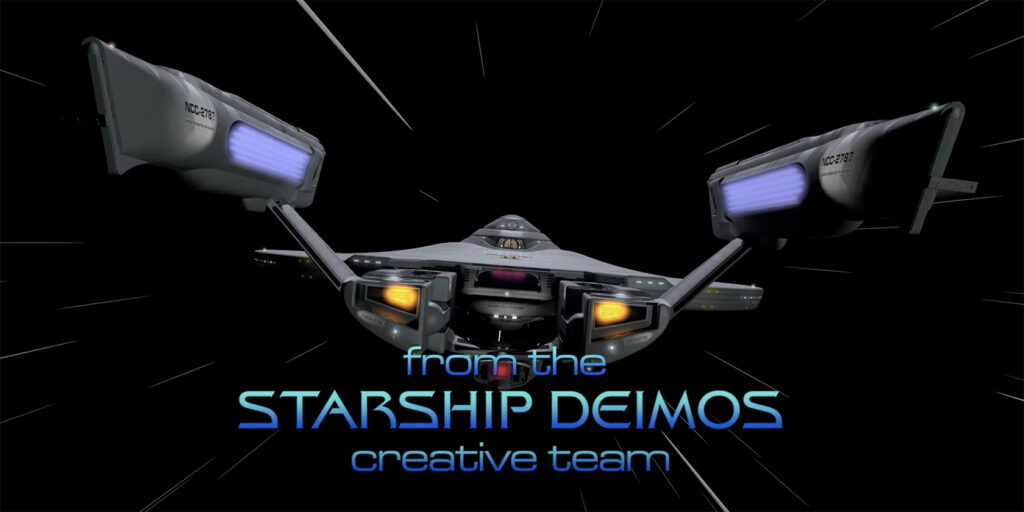 I try to cover each new fan film from POTEMKIN PICTURES soon after it's released. But with seven different creative groups all working simultaneously, occasionally I'll miss one or two.
I had this somewhat embarrassing realization a couple of weeks ago when I went to watch the latest offering from the STARSHIP DEIMOS creative team, "Butterfly Effect." It was quite good (as are nearly all of the releases from the Deimos team). And I noticed that this particular episode was written by VICTORIA AVALON, who plays Captain Gabriel of the USS Deimos. Victoria had written all but two of the first eight episodes of Deimos, but I hadn't seen her name as writer for a while (I checked, and it'd been about two years). Victoria—who also helped write the STARSHIP FARRAGUT episode "Conspiracy of Innocence" back in 2014—writes some very strong scripts, and "Butterfly Effect" was no exception.
But when the episode ended, YouTube (as it usually does) automatically loaded up another video, and it was another episode of Starship Deimos: "Blood Crystals." I let it play, and remembered that I'd started watching it back in February, but I'd never finished it…and I totally forgot to blog about it! Oy vey. It was also a very good episode.
Then YouTube loaded another Deimos episode for me, "The Solomon Gamble" from last October. I'd never watched that one at all! Then I went to check my blogs and discovered, much to my horror, that my last Deimos blog was last June(!!!) about their episode "Children of Eberus." I'd missed covering THREE new episode releases. Oh, the shame!
So here they all are, in the order they were released over the past seven months…
I noted that, in the past seven months, while Deimos had just released their THIRD completed fan film, the other Potemkin creative teams were trailing:
MARIE CURIE – 2 episodes (November and March)
TRISTAN – 2 episodes (December and April)
BATTLECRUISER KUPOK – 1 episode (November)
ALEXANDER – 1 episode (February, but that was the series premiere)
TRITON – 0 episodes (most recent was May 2019)
ENDEAVOUR – 0 episodes (most recent was December 2018)
I remembered asking Potemkin show-runner RANDY LANDERS at one point about this inconsistency, but many of my current readers might not have read his original answer. So I decided to ask Randy again, this time wondering if his and his wife's recent move from Alabama to Kentucky might have affected the schedule and perhaps have spelled the end for one or more of the above-listed fan teams (and remember, we DON'T call them fan series!).
Here was Randy's response…
Continue reading

"Three new fan films from STARSHIP DEIMOS in seven months…and more POTEMKIN news from RANDY LANDERS!"