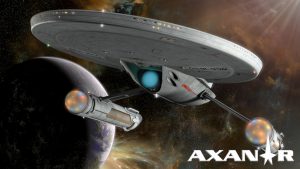 Just when you thought you were out, I pull you back in!  Yes, it's AXANAR lawsuit time again…and I really didn't expect this part to be quite so significant.  Man, was I wrong!
As you may recall, the next major event in the Axanar case was supposed to be oral arguments for the motions for summary judgment in front of Judge R. Gary Klausner on Monday morning.  But the judge canceled the in-person hearing and will be making his pre-trial rulings based solely on the documents filed by both parties.  (This is not unusual.  I'm told that Judge Klausner usually cancels oral arguments and rules based on filings.)  This means that the judge's rulings could come at any time…and this lawsuit could possibly even be over before it begins!
But if this case does go to trial on January 31, then yesterday (Friday) was an important deadline.  It was the last chance each side had to challenge evidence and/or witnesses that the other side wants to use in court and present to the jury.  This can potentially be pretty big.  Imagine going into the big game with a few of your best players disqualified and benched.  That could happen if the judge excludes one or more pieces of potentially key or damaging evidence from being used at trial!
The plaintiffs are challenging TEN different items of evidence and potential witnesses (like little ol' me!) while the defense team is challenging NINE.  I've consolidated all those separate motions into two huge PDF documents:
You probably don't want to read all 140 pages (although there's some interesting stuff in there!), so I'm gonna help ya out and do a summary…later this week.  Assuming the judge doesn't end the case before then, I'm gonna need at least a few days to parse through all this!
Except for the motion about me (starting on page 25).  That one I wanna tackle right now because, dammit, it's my frickin' blog and I should be allowed a bit of self-indulgent righteous indignation every once in a while!
So let's take a look at why the plaintiffs don't want me ruining their case…
Continue reading "NEW MOTIONS filed to LIMIT EVIDENCE in the AXANAR LAWSUIT!"