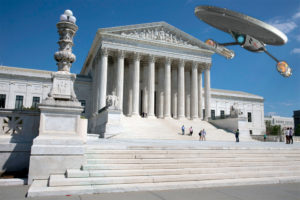 Imagine it's about three or four years from now, and you're watching the news.  Suddenly, you start hearing William Shatner's voice, "Space, the Final Frontier…" as the news anchor says, "Star Trek fans are about to go where they've never gone before. The Supreme Court has just agreed to hear a case involving a 2014 Star Trek fan film called Axanar…"
So you think I'm trippin', huh?  You think I've been smoking la weed a' toka (now legal here in California, but still not my thing).  Or maybe you just think I have delusions of grandeur about Axanar and I'm completely out of touch with reality.
Well, possibly.  After all, the Supreme Court gets more than 7,000 petitions each year to hear cases…and accepts only about 100-150 of them.  And Supreme Court cases generally involve very important and complex issues of law that have national implications…especially if someone's constitutional rights are being violated in some way.
So you probably don't think that a copyright infringement lawsuit against a small Star Trek fan film could possibly rise to the level of having national implications.
But thanks to Judge R. Gary Klausner's ruling last Wednesday during summary judgement that fair use is an invalid defense at this trial, the Axanar lawsuit is now very much a constitutional case with national implications…
Continue reading "Could the AXANAR LAWSUIT go all the way to the SUPREME COURT? (Part 1)"