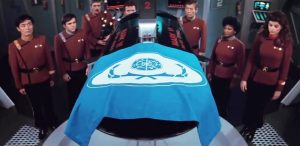 Be careful what you wish for!  For years, Star Trek fans have been hoping for guidelines from CBS to help define what was and was not acceptable in the creation of fan films.  Today, those guidelines were finally posted publicly…
…and it wasn't pretty.
The new guidelines would limit all Star Trek fan films to no more than 15-minute short films and no more than two-parts (so you couldn't divide a one-hour episode into four segments).  Likewise, continuing series with seasons and/or sequels would be prohibited.
Continue reading "The $#&! hits the fans: CBS and Paramount release horrifying new GUIDELINES for Trek fan films!"