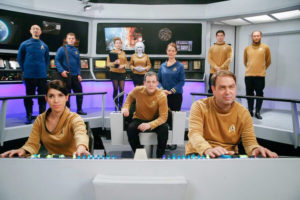 Can you feel it?  Things just got a whole lot more exciting in the fan film world when STAR TREK: FIRST FRONTIER released its latest trailer earlier on today.
What makes this new fan production so exciting?  Where do I begin???
It's a fan film about the very first commander of the USS Enterprise NCC-1701, Captain Robert April, and his crew on their maiden voyage of exploration.
It's a fan film that has custom-built sets in the finest traditions of fan series like Star Trek: New Voyages and Star Trek Continues.
Likewise, the costumes look amazing.  They are very similar to Pike-era uniforms, and the attention to detail and continuity is wonderfully impressive.
It's using actual Screen Actors Guild actors (not that fan films without professional actors can't be exciting, too, mind you!).
It's being self-funded by ONE GUY who decided that he wanted to build an actual 11-FOOT MODEL of the original USS Enterprise (like, from the first two Star Trek pilots…the one with the larger bridge deck and pointy needle/antenna thingies on the front of the nacelles) to film the visual effects the "old fashioned way."
Here, watch this video (it's not the official trailer…scroll to the end for that) and tell me you're not excited, too:
And who is this self-financing super-fan with the meticulous attention to detail?  Born in Florida and still living there today, KENNY SMITH is a convention promoter who is also a U.S. Army veteran who fought in Operations Desert Shield and Desert Storm.  But how did those long roads lead him from there to here, making one of the most intriguing, costliest, and intricately produced fan films to come along in quite a while?
By now, you've probably figured out that I interviewed Kenny and asked that very thing, right?
Continue reading "FIRST FRONTIER releases its newest trailer! (Interview with KENNY SMITH, Part 1)"