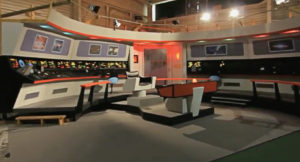 Would you pay $1, $5, $10, or $25/month to keep the lights on for the only full TOS sets to be completely open to the fan film community?  Right now, 11 people are already doing that, giving STAGE 9 STUDIOS in Kingsland, GA a combined $100/month (or thereabouts) in guaranteed financial assistance to pay for rent, electricity, and maintenance.
With rent estimated at about $3,000/month, a hundred bucks a month might not seem like much.  But Stage 9 Studio only just recently launched their new Patreon, and owner RAY TESI is currently paying all expenses out of his own pocket from retirement savings.  So donating even as little as a dollar a month will be a welcome help.
For those not familiar with Patreon, it's similar to Kickstarter and Indiegogo in that anyone can set up a campaign, anyone can contribute, and there can be perks.  The difference is that, while the latter two are designed for a one-time contribution, Patreon is set up so that supporters (patrons) donate monthly, a recurring contribution charged to their credit card or transferred from their bank account until the donor says otherwise.  Patreon is designed for ongoing endeavors rather than one-time projects, so it's perfect for something like Stage 9 Studios where the expenses from rent, utilities, and maintenance are ongoing.
And what happens if the Patreon generates more per month than it costs to "keep the lights on."  (What a great problem to have, right!?!)  Simple.  Additional funds will be used to improve the studio (like adding air conditioning, perhaps?) and maybe even to build more sets.  As the Patreon page clearly states:
STAGE 9 STUDIOS is NOT a money-making enterprise, but an opportunity to share the passion that millions of STAR TREK fans have for the series!
But that's not all that's happening with Stage 9 Studios.  Would YOU like to see these amazing sets in person…for FREE???
Continue reading "STAGE 9 STUDIOS announces a new PATREON, OPEN HOUSE, and an awesome WALK-THROUGH VIDEO!"