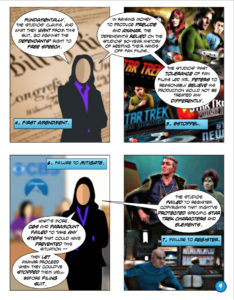 With things heating up in the AXANAR Lawsuit and trial set to begin in just 30 more days(!), there's a LOT to keep track of.  In fact, I expect to be typing pretty feverishly over the next few weeks as summary judgments are announced and oppositions filed to motions to exclude evidence and witnesses.  So secure all stations and prepare for warp speed!
And what better way to get ready than…to read a comic book???  But it's not just any comic.  My fellow blogger-in-arms, Carlos Pedraza, has proven once and for all that he has waaaaaay too much free time (and, hey I'm one to talk, right!?!?!) by producing a really well-done Illustrated Guide (in comic book form) to the major points and arguments in the Axanar lawsuit…from both the plaintiffs' AND defendants' sides.
Yes, you read that right.  I just paid Carlos Pedraza a compliment!  (And oh, look: there's Satan skating to work!)  But no, seriously, for anyone out there imagining Carlos and me as the two Lazaruses from "The Alternative Factor" locked forever at each others' throats in a chamber trying to keep the pro-Axanar and anti-Axanar universes forever separated…well, that's just our day job, folks.