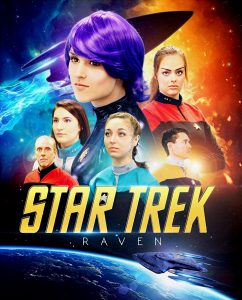 If the release of the new guidelines by CBS and Paramount was the shot heard round the fan film world, then the subsequent response by the show-runner of Star Trek Raven was the first hint of return fire.
Or was it?
A week after CBS and Paramount published their guidelines for Star Trek fan films, an announcement went up on the news page for Star Trek Raven, a little-known fan series based in central Iowa filmed at Starfleet Studios (not to be confused with Starbase Studios in Oklahoma). The production had only released three short vignettes so far (this, this, and this), but Raven was about to become one of the most talked about fan films.
On July 1, the lead producer for Raven, David Whitney, posted this proactive statement:
The rules which pertain to direct copyright infringement and intellectual property will be adhered to. The rules which do not directly support their copyright, and copyright law, will be ignored.
 Wow! Them's fightin' words!!
Continue reading "Will STAR TREK RAVEN be IGNORING the new fan film GUIDELINES? (Interview with DAVID WHITNEY, Part 1)"