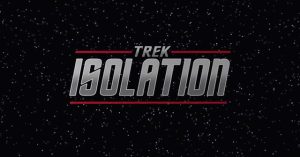 TREK ISOLATION, the long-awaited spin-off fan series to the long-running and celebrated Starship Farragut, is finally here with its first series episode "Out of the Fire."
Technically, Trek Isolation has been "here" for a couple of years already.  The series first debuted in late 2014 with a short prelude vignette titled "Change in Command."  During the 5-minute fan film, Captain Jack Carter (played by co-writer and Starship Farragut show-runner/star John Broughton) informs his chief of security (played by co-writer Eric Moran) that the lieutenant commander will be getting a promotion and reassignment as first officer and science officer aboard the USS Babylon.
Six months later, the Trek Isolation team SHOCKED fans when it released its second prelude vignette "A Great Responsibility" featuring none other than Marvel Comics legend STAN LEE as a Starfleet Admiral!  And it wasn't just a brief cameo, as happens in so many Marvel movies.  Instead, Stan does a two and a half minute scene as part of this four and a half minute fan production as he assigns Captain Hawkins (played by co-writer Dave Turner) as the new commander of the USS Babylon.
Continue reading "TREK: ISOLATION spins off from STARSHIP FARRAGUT and releases its first series episode "Out of the Fire"!"