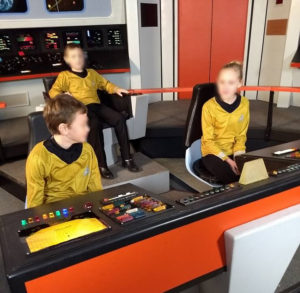 There's a lot going on behind the scenes at STARBASE STUDIOS recently, and I'll get to that in a moment.  But first, you might want to read up on the current situation if you don't already know about the lawsuit and all of the other drama going on of late.
All right, strap in.  Let's start with this past weekend when a group of 5th and 6th graders from Parkview Elementary School Music Club got a chance to film a music video project on the amazing TOS sets of Starbase Studios, currently located in Marble Falls, Arkansas.
The field trip was set up by their teacher, KEVIN CROXTON, who had composed the music for THE FEDERATION FILES' second episode Walking Bear, Running Wolf last summer.  In exchange, Kevin had asked show-runner GLEN L. WOLFE for the opportunity to bring Kevin's music students (they're local) to the sets to film a video project.  So this past weekend's excursion has been planned for nearly 7 months.
And, really, isn't this what Starbase Studios is all about?  Sets by the fans, for the fans…and even attracting a whole new (next!) generation of young fans.  So what could possibly be wrong with that?
Well…
Continue reading "Elementary school kids have a blast filming at STARBASE STUDIOS…and all hell breaks loose in fandom! (part 1)"