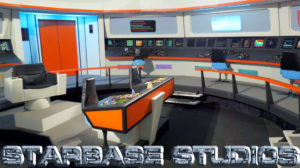 Sometimes no good deed goes unpunished.  When last I reported on STARBASE STUDIOS, things looked like they would finally work out.  An agreement that had been in negotiation for three arduous months had finally been agreed to and signed by all parties. The Starbase Studios lawsuit filed by Glen Wolfe was dropped, and it seemed like things could return to normal.
The new owners of the sets would be GLEN WOLFE (50%), SCOTT JOHNSON (25%), and GLENN MILLER (25%).  KENT EDWARDS would no longer own any part of the sets but would continue to be involved with Starbase Studios, LLC, and working with fan filmmakers.
Although the sets would remain in their current location in Marble Falls, Arkansas until the end of this year, after that, plans were that they would be moved into a fantastic new building with heat, A/C, electrical, and best of all, bathrooms!  Free rent would be provided by the building's owners, Glen Wolfe and his wife, and fan productions going through Starbase Studios would be able to continue using the sets essentially for free.  It was looking like Starbase Studios had gotten through the rough waters and emerged safely on the other side of the river.
Yeah, well, don't get out of the boat just yet, folks…
Continue reading "Continuing drama for STARBASE STUDIOS…and my departure"