Back in September, I reported on how VANCE MAJOR (whom I affectionately refer to as the "Where's Waldo of Star Trek Fan Films") had released SEVEN Trek fan films in just SEVEN DAYS.
And now Vance has done it again!
This time, Vance wasn't quite as prolific, but he did manage to debut SIX fan films in less than 30 days, from November 3 to December 1.  All of the films continue to saga of Erick Minard, chief engineer of the Starship Valiant and the captain of the USS Constar nearly a century later.  How is Minard alive to serve under Captain Christopher Pike and still around in the 24th century to fight the Borg and talk to Lt. Commander Data and Dr. Crusher?  The only way to find out is to watch the episodes as they are released.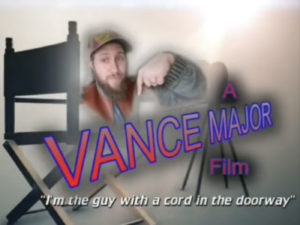 Some fans have criticized the production quality (or the lack thereof), and even Vance himself acknowledges the low-budget look of the finished product.  The uniforms often don't always fit properly, the spoken lines in outdoor scenes can be overwhelmed by a mild gust of wind, and certain characters look like they could use a few extra workouts on the ship's treadmill.  (I'm one to talk!)  Even Vance's own production company vanity plate at the end acknowledges, "I'm the guy with a cord in the doorway" (a glitch which actually happened about 50 seconds into this fan film).
But those who criticize Vance's work, in my opinion, aren't getting what fan films are all about.  Not everyone can make a Star Trek Continues, Renegades, or Prelude to Axanar.  And they don't have to!  Fan films are the great equalizer.  We all create our projects to the best of our abilities and our budgets.  Even the worst fan film still requires a great deal of work—writing a script, pre-production prep, getting the actors together, directing scenes both technically and dramatically, VFX (if you have any), sound, music, editing—fan films don't make themselves!  And if you don't like the end result, then don't watch.  Or watch anyway because most fan films these days (including Vance's) are pretty short.
Here's what I think makes  Vance's stuff so unique and special among fan films…
Continue reading "Another SIX fan films in the MINARD saga from VANCE MAJOR…all in just 30 DAYS!"