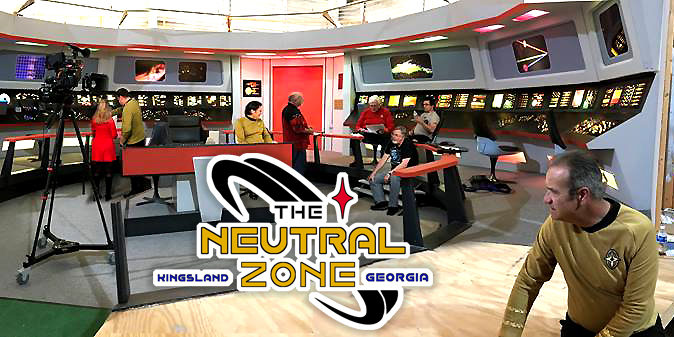 I need to clear the air regarding myself and NEUTRAL ZONE STUDIOS, the TOS sets in Kingsland, GA that were originally used for STARSHIP FARRAGUT, later used for STAR TREK CONTINUES, and were recently purchased by RAY TESI and opened up to any fan filmmaker who wanted to use them, was able to pay $300/day, and was willing to follow the fan film guidelines.
I want to state for the record that I wholeheartedly SUPPORT Neutral Zone Studios and encourage anyone who is a fan of Star Trek fan films to support them, as well, through their Patreon campaign:
https://www.patreon.com/neutralzonestudios
As many of you know, I was originally scheduled to film two of my scenes for my fan film INTERLUDE there. Ray Tesi was 100% on board. In fact, when I was considering bringing my son Jayden to Georgia watch the shoots, Ray told me that he'd make sure the entire studio was lit up (all the lights and buttons) before we arrived so that when Jayden walked in, the first thing he'd see would be the USS Enterprise in all of its glory. Ray was even going to see if he could manage to drive up for the day from Florida to finally meet me in person and watch the shoot.
But over Memorial Day weekend at Neutral Zone Studios' Fan Appreciation Weekend 2, Ray informed my directors, JOSHUA IRWIN and VICTORIA FOX (who were there shooting interviews with VIC MIGNOGNA, MICHELLE SPECHT, and CHRIS DOOHAN to help promote the studio's Patreon campaign) that Interlude was no longer welcome to use the sets.
Although ALEC PETERS, who was similarly banned, accused Vic of being the reason for Ray's sudden change of heart, Star Trek Continues make-up artist, LISA HANSELL, posted this comment on Facebook the Monday after the event…

Now, all things considered, I should probably feel angry, hurt, insulted, frustrated…and to be honest, I did feel those emotions quite deeply for a short time. But I moved past it.
However, something happened this past weekend that has left me wondering if others haven't let this go as I have. And I now feel that it's important to state publicly that I have forgiven Ray and Lisa and (if he was involved in the decision) Vic…and anyone else who pressured Ray Tesi into changing his mind about letting my production film at NZS.
So what happened this past weekend?
Continue reading

"Why I am NOT "neutral" about NEUTRAL ZONE STUDIOS…"