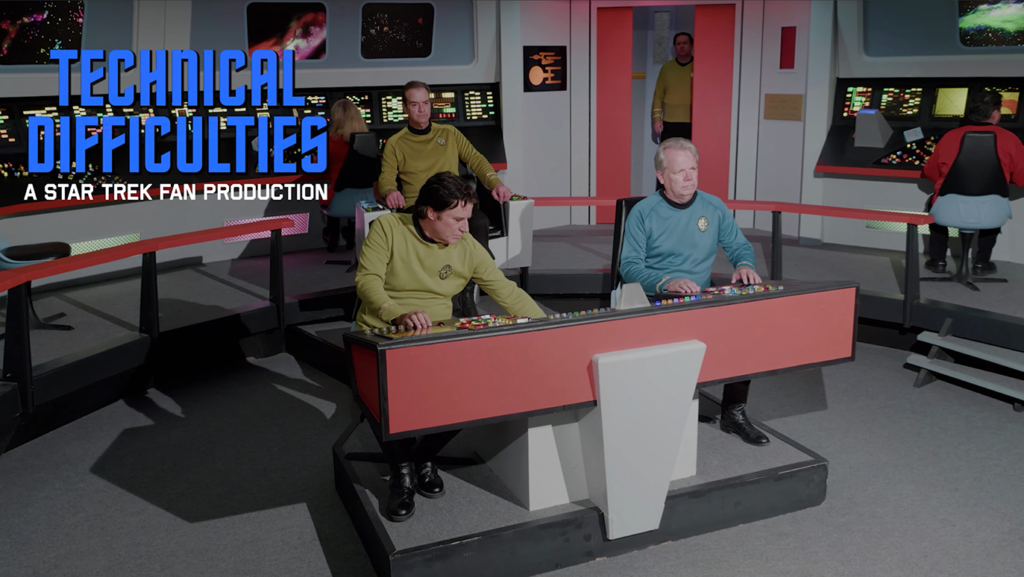 DREADNOUGHT DOMINION didn't set out to be a tongue-in-cheek Trek fan film parody…and it doesn't plan to be one for much longer. But for the last ten months, GARY DAVIS and RANDY WREN have taken this passion-driven fan production in some very quirky directions.
Back in 2015 when the first two episodes ("Haunted" and "Anchors Aweigh") were released, Dreadnought Dominion was actually pretty serious. Those two episodes set up the backstory of the main characters as the USS Dominion prepared to launch. But then the show-runner and lead actor, Frank Parker, Jr. (playing Commodore Samuel Grissom) left the series, leaving Gary and Randy to pick up the pieces and move on.
In late 2016, Dreadnought Dominion did a cross-over fan film with Starship Valiant called "Chain of Command." With Dominion still waiting to launch Gary's character of Captain Jason Brousseau takes command and makes Randy's Commander Stephen Denson his XO.
The following summer, a Mirror Universe version of the same episode, this one titled "Command and Conquer," showed the same scenes taking place in the Terran Empire. It was a fun little project, and both fan films featured MICHAEL L. KING from Starship Valiant and VANCE MAJOR playing his fan favorite character of Erick Minard.
And Dominion still hadn't left drydock!
This past summer, Gary and Randy became the first fan filmmakers to shoot a project at Stage 9 Studios (now renamed THE NEUTRAL ZONE), site of the former Star Trek Continues sets in Kingsland, GA and now available to all fans to use. (Support the Patreon for The Neutral Zone by clicking here.) They released two back-to-back vignettes, "Reality Check" (which purposefully broke the fourth wall) and "Silent Acknowledgement" (featuring the first deaf character and actress in a fan series). You can read a great two-part interview with Gary and Randy here.
And yet, after six complete fan films, Dominion was still in drydock!
Acknowledging the ridiculousness of the situation, Gary and Randy created one final script to get them on their way: "Technical Difficulties." They scheduled filming for the same weekend that owner RAY TESI opened up his TOS sets in Kingsland free to visitors for a Fan Appreciation Weekend. It was a huge success, but it also afforded the Dominion folks to go somewhere only one Trek fan project ("Walking Bear, Running Wolf") had ever gone before: they filmed before a live studio audience!
ERIC L. WATTS of the fan film Bjo Awards pointed out, "It's worth noting that the producers of this episode took advantage of the presence of several attendees…who happened to be in TOS costumes and casting them as background characters, particularly in Engineering, which gave those scenes the unexpected benefit of looking like the ship had a full crew complement aboard."
The result, as you'll see below, is a fun and original fan film, full of gags and laughter, that has the added benefit of finally—after some technical difficulties—getting the dreadnought Dominion out of drydock and finally on to her missions in space…