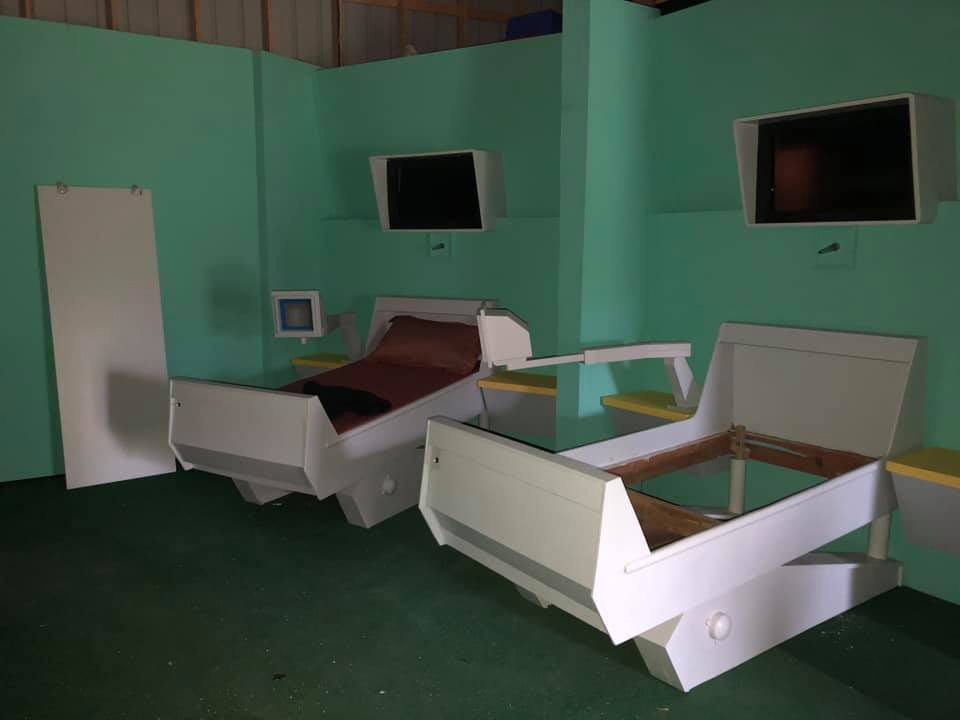 Before we get to WARP 66 STUDIOS, a quick update on the Indiegogo campaign for the third AVALON UNIVERSE fan film "Demons." With less than 15 hours left(!!!!), they are at $6,290 from 97 backers…plus another $500 directly from a special backer. That means that the campaign has reached nearly 80% of its $8500 goal. Can they get the rest of the way before tonight's deadline at midnight? If you haven't donated yet and want to, here's the link:
https://www.indiegogo.com/projects/demons-a-star-trek-fan-film–2
Okay, on to WARP 66 Studios. Named after its founders GLEN WOLF and DAN REYNOLDS (Wolf And Reynolds Productions) followed by the year of the premiere of Star Trek (1966), their TOS sets are located in northern Arkansas on property owned by Dan and other property owned by Glen. Already, they and their team have constructed a partial Constitution-class bridge and the cockpit of a shuttlecraft, both of which were used in the recent fan films THE FEDERATION FILES: "Galaxy Hopper" and and AVALON LOST.
Unlike the TOS sets at Neutral Zone Studios in Kingsland, GA, WARP 66 Studios is not necessarily open to any fan film, nor is it exclusive only to Glen and Dan's Federation Files projects. Glen explained:
Currently, the sets are for The Federation Files and friends of the production group. Basically, if a member of our crew whats to make his/her own film, they may use our sets. We are in no way "competition" for The Neutral Zone or James Cawley's Fan Film Academy. We are building sets for specific shoots, all of them can be considered temporary aside from the bridge.People may contact me, but due to the fluid nature of the sets, I can not promise any particular piece would be available.
This past weekend, Avalon Universe co-showrunner JOSHUA IRWIN (who also lives in Arkansas) spent a full day helping with the construction of a partial sickbay set, a briefing room, and an extended corridor that will be used as part of the USS Excalibur in the upcoming Avalon fan film "Demons." Josh had this to say about the experience of working to help create the new sets…
It's honestly a dream come true to spend the day building a space ship to film on. 14-year-old me would be very jealous of what 38-year-old me did today.
Remember to make a donation to Avalon's Indiegogo before the end of today (if you haven't already and are so included) or at least spread the link via social media. And in the meantime, enjoy these photos that Josh took over the weekend at WARP 66 Studios…
Continue reading

"WARP 66 STUDIOS expands its TOS sets…with the help of JOSH IRWIN from Avalon!"